Compact and Robust Frame Design
Greater Accessibility during services
Maintenance-Free Bearings
Individually Spring Loaded Disc-units
Vertical and Horizontal Disc Angles
Adjustable Depth Control
Finisher Roller
CAT 2 or CAT 3 Three-Point Mounted Hitches
Working Speeds of between 8-16 km/h (depending on work depth)
Working Depth of between 50-125mm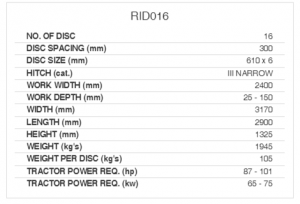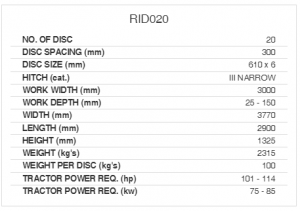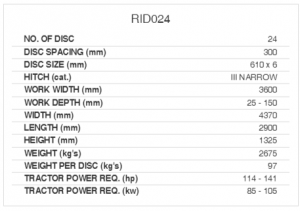 The High-Speed Inline Disc Harrow's new compact design allows faster and more effective transportation between farms and lands, and was designed to replace Radium Engineering's traditional Offset Disc Harrow. This practical and versatile machine empowers farmers with more applications in addition to the usual harrow work.
The individual disc-units contains the clamp, arm, disc, bearing and spring (exerting the down force which allows for flexibility during field operations). The bearing's maintenance-free design reduces down time and increases inland efficiency.
Deeper, slower operations is effortlessly achieved through the machine's balanced weight, and also enables faster, lighter operations when needed.
The vertical and horizontal axis and positions of the discs improves the soil penetration and tilth.