Robust Frame Construction

Manufactured from high-grade square and rectangular tubing
Reinforced with steel plates
Torque and stresses are evenly distributed across the frame
Unique design and shank trip assemblies prevent breakages

450mm Tine Spacing

250mm shears till the soil completely over the entire work width of the machine
Optimises material flow
Reduces packing of material within the shanks

500mm Tine Spacing

Wider tine spacing optimises work width
Requires NO additional horsepower from the tractor
Improves material flow in fields with heavy amounts of surface trash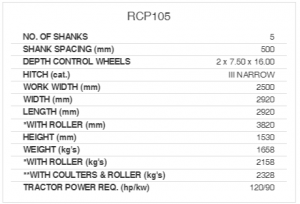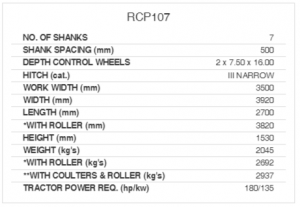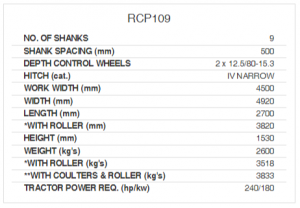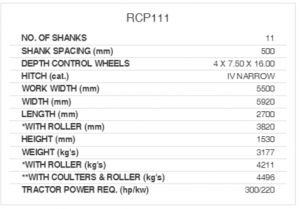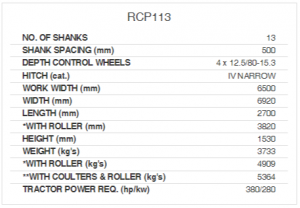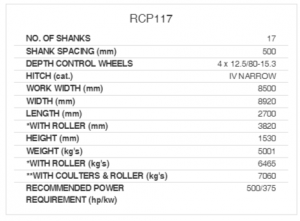 The Radium PowerRip is all about the effective use of energy. It is a basic, three-point mounted machine that comes in practical sizes to match the available horsepower of most tractors. The machine manoeuvers easily on the headland, thus increasing overall productivity. Weight is transferred to the front wheels of the tractor via the top link of the PowerRip. This reduces wheel slip and uses the tractor's output more efficiently. For reduced rolling resistance and to optimise fuel consumption, the machine has been constructed without large carry wheels.
The unique shank configuration of the PowerRip allows for easy material flow. This reduces the packing of material within the shank layout and minimises wear on the components. These machines have a maximum work depth of 550mm and a maximum work speed of 7.5km/h. The PowerRip is a practical and versatile solution for most primary farming ploughing operations.
This tractor-mounted tiller may be basic, but its robust frame construction makes it durable and the range of different sizes available make it simpler for farmers to find their perfect fit. Take a look at Radium Engineering's selection of tillage equipment.