High-quality Painted mild steel bin and chassis construction is a welded construction made of sheet metal and plate while the chassis is constructed of a high grade tubing to offer addition strength and flex during operation.
Perfect hitch, Hitching System allows for a greater degree of movement in all directions between the machine and the tractor.
Hitch Safety Chain is a precautionary measure taken in case the hitch, hitch bolts or tractor drawbar breaks during operation.
A robust parking jack makes for easy hitching and detachment of the machine before and after operation.
High Flotation Wheels improve the tracking of the machine in the lands while reducing compaction.
Tandem Wheel System is available on various models.  This system is coupled to the chassis by means of leaf springs and allows for the weight to be evenly distributed over all four wheels.
Durable Imported Axels are made of the highest quality and all conform to the CE and/or European standards.
Detachable Axels allow the customer to have several different wheel centres by being able to bolt on and off the different axel sizes.  This also improves the practicalities of logistics when road and freight regulations infringe on the design of the machine.
Rear Steering Axel is available on various models and allows for even greater movability when turning on the headlands.
Hydraulically Braked Axels are available on various models.
S-design Drawbar allows for a sharper turning circle ensuring greater and more streamlined movability.  It also protects all hydraulic pipes and electrical cables to be protected while improving aesthetics and design.
Inspection Window is placed in front of the machine, which allows the operator to view the contents and volume of the material in the hopper during operation.
Inspection ladder is available on various models and allows the operator to access and inspect the hopper safely and easily.
Integrated Steel Grid is able to remove foreign objects 65mm in diameter and bigger, that cause damage to the spreading mechanisms.
ISOBUS single channel Kit are available on various models, with a plug and play option that will integrate with any ISOBUS ready tractor. This system controls the chain conveyor speed and in turn the application rate.
ISOBUS dual channel kit is available on various models.  This system controls the spinner speed as well as the chain conveyor speed which in turn controls he rate and spread pattern.
Light & Camera Package is available on various models, and allows the machine to be used on national roads. The package includes two cameras and consists of high intensity LED flood lights, strategically placed on the rear of the machine to provide light during night operations.
3CR12 bin construction has a greater life span than that of Mild Steel and is used with mildly corrosive materials and in wetter climates where rust and corrosion is common.
304 stainless steel bin construction is used mostly in coastal regions where highly corrosive materials are being applied. (304 Stainless Steel lasts up to 20 times longer than mild steel.)
Stand-alone hydraulic power-pack is used to supply sufficient oil flow to the various hydraulics on the machine should the tractor's hydraulics be insufficient.
Rear Belt Attachment is an ideal solution for band placement.
Orchard/Vineyard Spreading Kit is used to deflect material underneath trees and vines without distributing material directly behind the machine where it is not needed.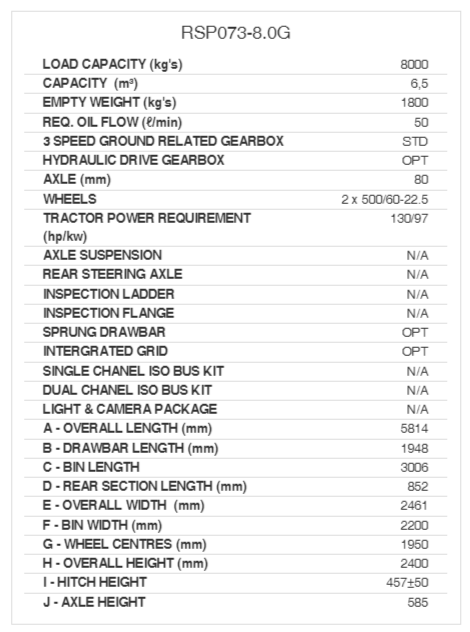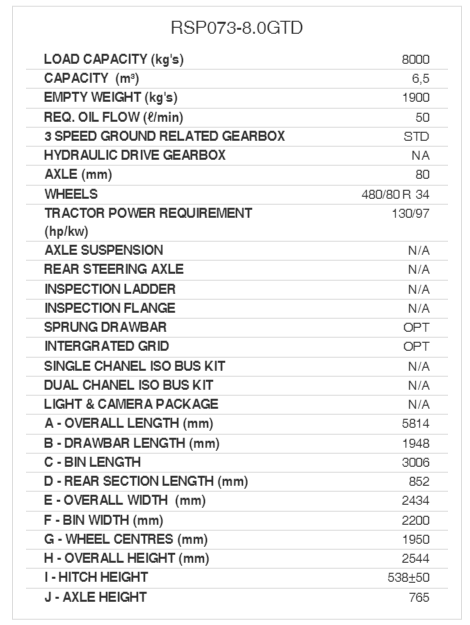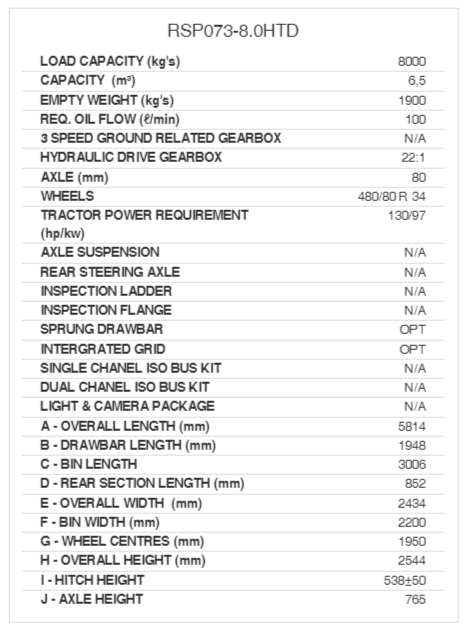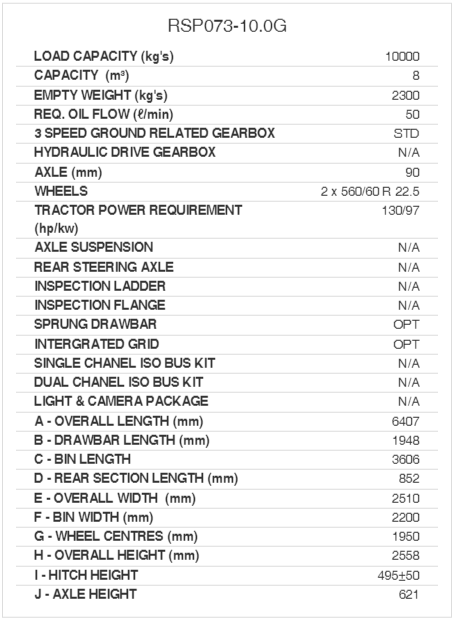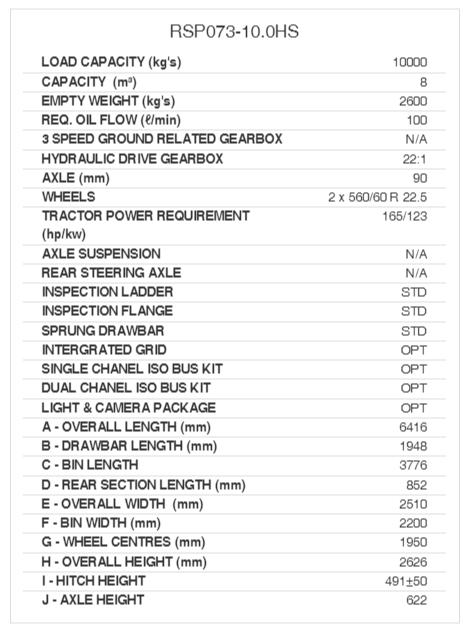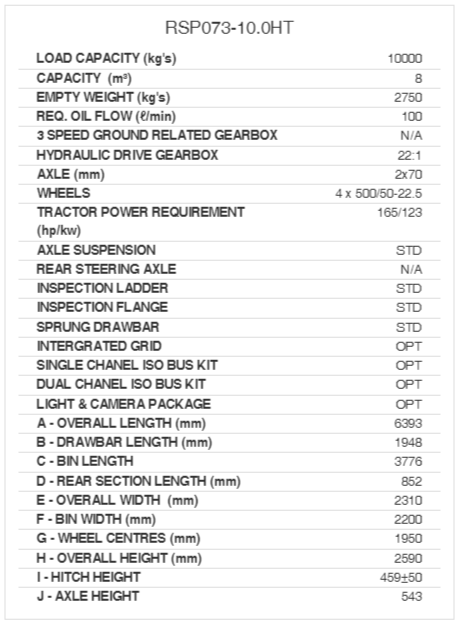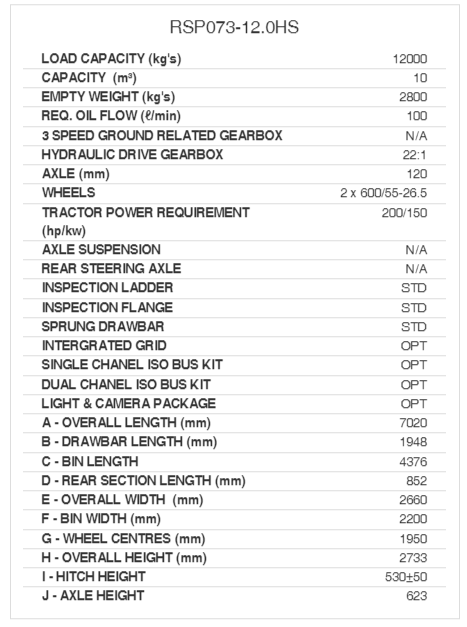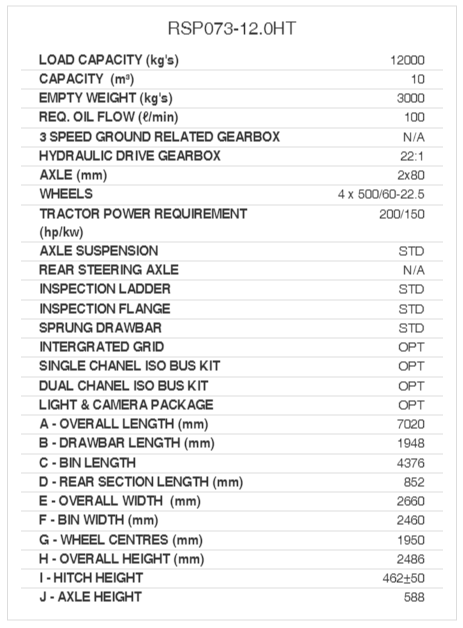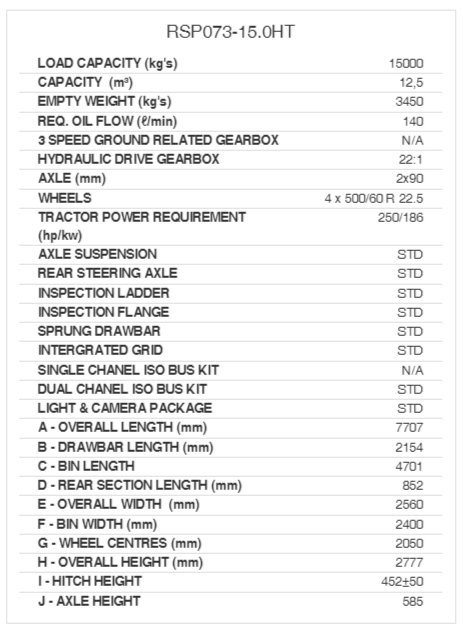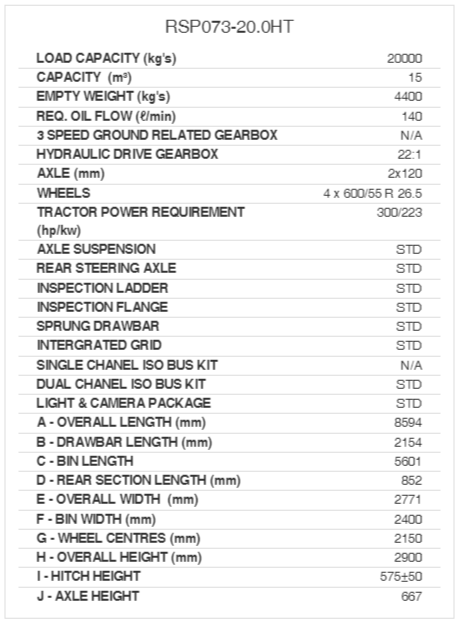 The ProSpread is all about productivity and versatility. Designed for medium to large-scale farmers and contractors,this sturdy piece of machinery is ideal for various spreading jobs. By spreading at the exact rate of fertiliser, lime, gypsum, or dry organic material, this farming equipment is ideal for rows of crop to large-scaled farming jobs.
The robust chain conveyor system has been designed to keep the flow of the materials from the bin constant and even, and regardless of the terrain, it operates flawlessly. The body consists of welded sheet and plate metal, giving it added strength and the ability to tackle any spreading job. Farmers and contractors looking for a medium-sized spreader need not look further than the ProSpread from Radium.
For a durable and reliable spreader built for bulk spreading, consider the durable BulkSpread. If not, Radium Engineering has a wide range of spreading equipment suitable for your farming needs.